e
Greetings Gigajammers!
We thought we'd send you a message before we break for Christmas, to wish you all a great time and to review some of the things we've been able to bring to Gigajam this year. Also we've been able to include something you can slip in people's stockings.
Music Grades
Our partnership with the London College of Music has proved very beneficial to many of you. Being able to get real Music Grades online, without having to visit exam centres and without having the weekly expense of a personal tutor has proved to be very popular with you guys.
So our heartfelt congratulations go out to all those that have completed a grade or two and applied for their certificates.
Some of you have even reached Grade 5 levels, pictured is super Gigajammer Phil, who was awarded a distinction in Grade 5 Bass. Congratulations Phil, it's drums next for you!
If you've not got your grades yet it's easy to do so, and all explained in this very short video:https://www.youtube.com/watch?v=-bew5gK5fxw
New Videos
We've been in the studio reshooting our lesson videos, they are quite a lot of work for our small team, but we've now finished the first 10 lessons of Drums.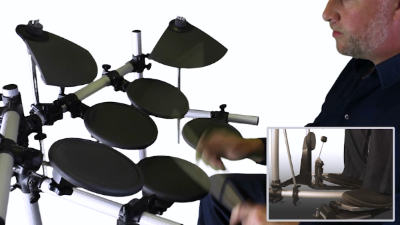 As you can see we've worked hard on brightening things up and making things more visible, including a picture-in-picture shot of the bass pedal. We've also been able to improve the resolution when playing lesson videos fullscreen.
The door's been left open for HD resolution in the future, when we change our video player to support multiple streams. If you'd like to see HD then let us know.
We've also gone back to the tapes of our TV shows and recently started to re-capture those at a better quality, so you'll be seeing those improve as we upload them in batches.
Xmas Offer
We'd like to give you something for Christmas, so here's an offer you can print out and put it in someone's stocking! Or use it yourself if you like, of course! You can print out as many of these as you like and spread the Christmas cheer!
Thanks for spending the year with us! Have fun learning and Merry Christmas,
Brian and Iain
to bring to Gigajam this year. Also we've been able to include something you can slip in people's stockings.